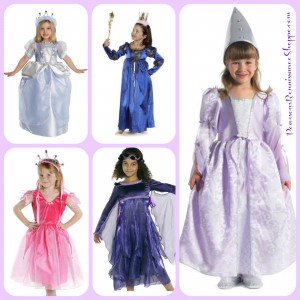 She's read about them in her storybooks and seen them in movies. Your little girl is your princess, so why not let her dress as one? Our girls' princess costumes are high quality and yet affordable enough to make a great present for any little lady!
With gowns made from satin, velvet, and gold or silver mesh, your young princess will be sure to get all the attention that she craves from her family and friends. Puffed up sleeves and a long skirt make your little one into the heir to a medieval throne. And the metallic trim lets you know she's royalty in the making.
We offer a variety of children's princess costumes, from the iconic pointed hat and lilac gown, to the airy princess organza dress that's ideal for shimmering in the warm weather. We also have the accessories that every little princess needs, including tiaras, butterfly halos, glitter wings, and capes.
While princess costumes may excite many girls, others have different tastes. Our children's tartan dresses, gowns, bodices, robes, fairy costumes, and more ensure that your little girl will find the clothing for the character she most wants to play. Whether she prefers Maid Marian, Rapunzel, or Lady Guinevere, our girls' princess costumes unlock the imagination of little girls and warm the hearts of their families.