Bring the Renaissance Faire Home in the New Year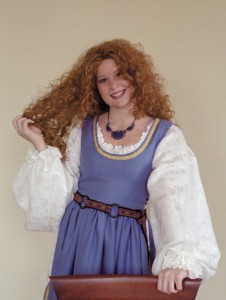 There is so much promise and expectation when moving into a New Year that it can be overwhelming. It is a time when many of us call on ourselves to start doing nearly everything better, and the result can bring the opposite of the intended effect. When it all seems too much, sometimes we just think "well, nevermind!" and end up doing nothing at all. I'm going to work hard to ensure that doesn't happen to me, and I hope you will, too!
Part of safeguarding myself against feeling overwhelmed is in creating resolutions that focus on a positive rather than a negative in their approach and language. The words we say to ourselves have a power well beyond imagination, and my first resolution is to start being a lot more respectful when talking to me! That should help me carry out my other resolutions quite nicely. As for those other resolutions? One I'm really excited about it my resolve to bring the Renaissance Faire home…
As much as many of my friends and I love Renaissance Faires and Festivals, none of us are able to attend them as frequently as we would like to. Whether it's conflicting schedules, or there simply isn't one nearby when the Renaissance itch fires up, there are inevitably times we would love to don our favorite Renaissance costumes and get together for endless fun times, but can't. Or can we? I think I have a solution – I'm bringing it home, baby!
We have all invested a lot of time and money into creating Renaissance costume collections that are nothing short of magnificent. It's truly a shame to only break those pieces out of the closet a few times a year when they're so magically fun to wear. Additionally, beyond all the clothes, shoes and jewelry, what makes the Renaissance Faire so special is being surrounded by others with a common interest who are also excited and ready for fun. The worries of the real world get to slip away for the day at a Ren Faire, and that is a rare and beautiful thing! We all get to be who we want to be – who we really are beneath all the bills, commutes, and everyday obligations. And, importantly, we get to be our relaxed Renaissance selves with friends and family. What could be better?
This year, I will still attend my favorite Faires and Festivals. I will still keep an eye open for new events that spark my interest, and attend them whenever I can. But I will also take time to set up a Renaissance-themed get-together or two in my home. I love entertaining, and it would be so much fun to see my friends arrive in their grandest garb for turkey legs at my table! And hey – if things don't go exactly as planned, that's OK. I'm sure we'll have a wonderful time in any scenario, as long as I can keep the pirates from trying to set sail in the neighbor's swimming pool!