Renaissance Dresses Help You Literally Dress the Part!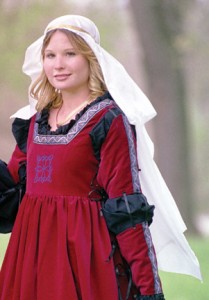 Whether you enjoy spending time at Renaissance faires or fan cons, or just need a costume for a party, there's something terrifically transformative about slipping on a Renaissance dress! The rich fabrics and feminine shapes take you out of your workaday world and let you travel to another time and place. Renaissance dresses make it easy to take on a deliciously evil persona if you choose. With the Bellatrix Lestrange Dress or Empire Woman's Steampunk Gown, you can show the Renaissance gentlemen around you that you're no one to be trifled with!
If deliciously evil isn't your idea of a good time, there are plenty of Renaissance dresses to express your sweet, virtuous side as well. It's hard to feel anything but lovely in the Bella Abita Renaissance gown. With soft layers and an embroidered bodice, you're primed to portray that Renaissance country lass with a heart of gold. Pair it with a silk veil and you can be anything from a princess to the local smith's daughter.
For an even sweeter persona, there's the Medieval Lace Dress. It doesn't get much more softly feminine than flowing white lace and a fitted bodice. Dress it up with jewels and a crown or let it be your medieval wedding gown. Just be sure to hurry – this one is on clearance!
Whichever character you wish to create, or aspect of your personality you wish to highlight, there are Renaissance dresses to help you melt away from the everyday…