When I searched for authentic medieval recipes I came up with a lot of different options. I decided for my first foray into Medieval cooking that I would start simple and, with the help of my Queen of Renaissance Aunt, I decided to go with a Savory Barley Soup with Wild Mushrooms and Thyme that I found. Of course I was unable to find half of the required ingredients (or they cost a fortune, like saffron) so here is my personal version of the recipe:
Savory Barley Soup with Wild Mushrooms and Thyme
½ cup dry white wine
1 Tbs. Olive oil
½ cup chopped shallots
4 garlic cloves, minced
16oz cremini mushrooms, 8oz chopped, 8oz whole
1 tsp minced fresh thyme OR ½ tsp dried
4 cups vegetable broth
¾ cup pearl barley
3 cups water
1 Tbs tomato paste
2 tsp fresh squeezed lemon juice
Sea salt and freshly ground pepper to taste
Directions:
Bring the wine to a simmer in a small saucepan. Add the mushrooms and allow the liquid to cook down, until the mushrooms are tender. Turn off the heat and set aside. In a large heavy pot warm the oil over medium-high heat. Add the chopped shallots and the minced garlic. Saute about 3 to 5 minutes or until the shallots are softened. Add the mushrooms from your saucepan, ¼ tsp salt, ¼ tsp pepper, and the thyme. Cook 1-2 minutes and then add the broth, tomato paste, barley, and water. Bring to a boil, then reduce heat, cover and simmer until the barley is softened, about 45 to 50 minutes. Remove the soup from heat and allow to cool slightly. With a hand blender puree about 1 cup of the soup. Return to heat until hot, add lemon juice, salt and pepper to taste, and stir. Your soup is ready to eat! Serves 4-8 depending on bowl size.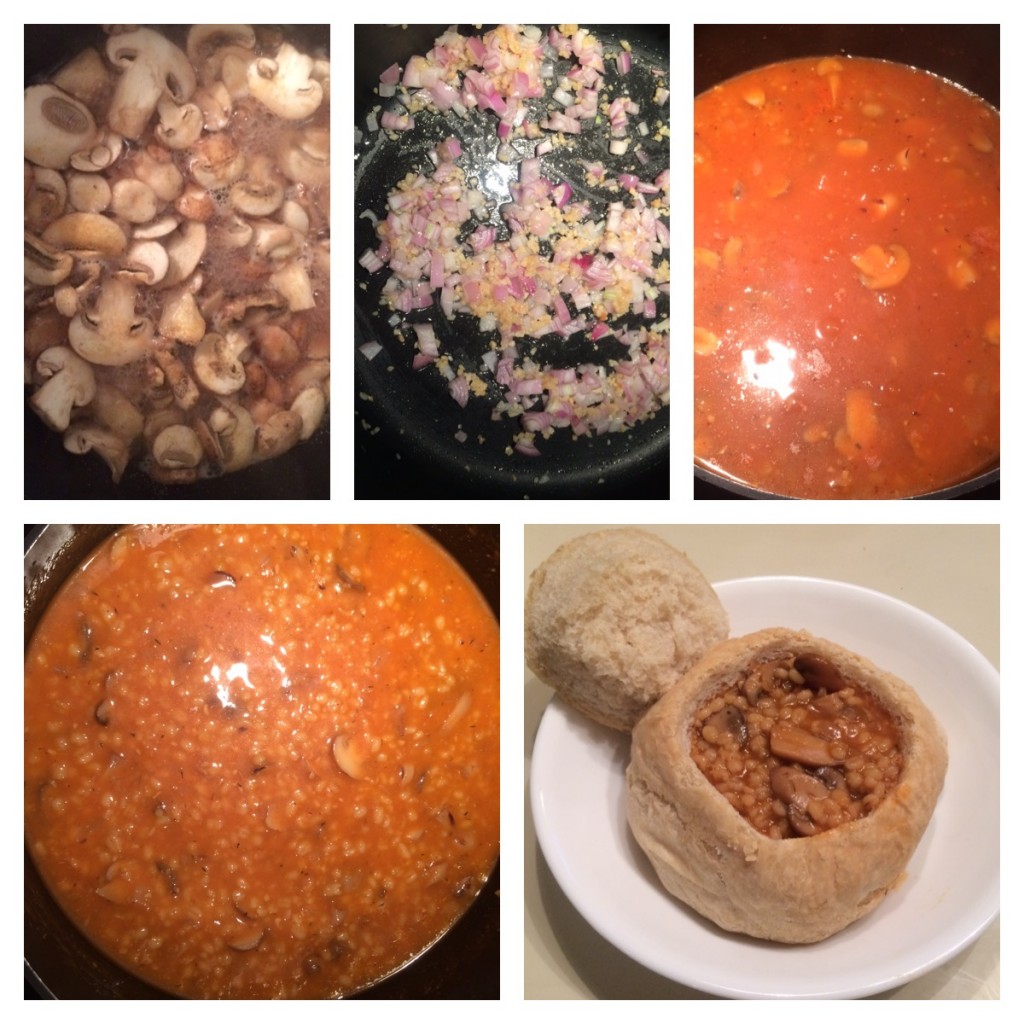 We served our medieval soup in bread bowl trenchers. I started my dough for my bread bowls about 2.5 hours prior to my soup as they need at least 1.5 to 2 hours to rise. I know it's not super authentic, being a white bread rather than black, but I knew no one in our family would actually eat a black bread so here is my modern medieval version.
Simple Bread Bowls
6 1/3 cup Flour
1 tbsp Salt
2 ¼ tsp Yeast x2 OR 2 pkgs
3 cups Water
1 tbsp EVOO
Directions:
Mix all dry ingredients in a large bowl. Add water and stir until fully incorporated. Kneading is not necessary, but I did a little to make sure everything was fully mixed. Remove your dough from the bowl, rinse the bowl and rub with EVOO (prevents dough from sticking.) Return dough to the bowl and cover with plastic wrap. Allow to sit in a warm area for 1-2 hours until the dough has doubled. Preheat your oven to 375 degrees. Punch down the dough and roll it out on a floured surface. (I doubled our bread bowl recipe and cut about 12 bowls.) With this recipe you should get at least 6 large bread bowls or 12 small – depending on how big you want your bread bowls to be. Round your dough and set on a baking sheet to rise again, allow about 20-30 minutes. They will rise more once you put them in the oven. Bake for about 40 minutes. Brush with melted butter or olive oil 10 minutes prior to removing them from the oven. This will give them a nice golden color. When done allow them to cool. Use a bread knife to cut the tops in a circle and use your fingers to even out the inside and make room for your soup. Serve with the top next to your bowl for dipping. Enjoy!