At Pearsons's Renaissance Shoppe, we love it when the seasons change. We especially love the transition from summer to fall. There's just something about the crisp air and colorful leaves that makes us happy! This month, we decided to see anyone had ever figured out a way to mix the steampunk aesthetic with traditional autumn foods, and that's when we stumbled on one of our new favorite blogs, Steampunk Cookery. Aaron, the man who runs the blog, is an ACF-certified chef who also has a fondness for steampunk. We browsed his blog and found some great steampunk recipes that are perfect for cool autumn days and nights.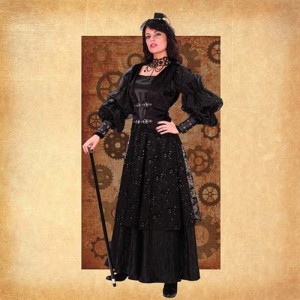 Acorn Squash Soup
3 acorn squash
3 shallots
6 garlic cloves
kosher salt
black pepper
olive oil
4 Tablespoons (60 ml) butter
3 shallots, minced
2 teaspoons (10 ml) dry sage
1 Tablespoon (15 ml) dark brown sugar
1 quart (947 ml) chicken stock
1 cup (237 ml) heavy cream
parmesan cheese
kosher salt
black pepper
1. Cut the acorn squash in half, and scoop out seeds. Place on a sheet pan and drizzle with olive oil. Place a half shallot and clove of garlic in each half of squash; salt and pepper lightly. Roast at 350°F for roughly an hour, until the squash begins to collapse and is soft and caramelizing.
2. Allow squash to cool, and scoop out flesh, shallots, and garlic. Set aside. Discard the skins.
3. Melt the butter, and sauté the shallots until they begin to caramelize. Add the sage and brown sugar, mix well, and cook 1-2 minutes. Deglaze with the chicken stock, and mix well.
4. Add the roasted squash flesh, shallots, and garlic cloves. Cook 5-10 minutes, then purée with an immersion blender or food mill. Simmer another 5-10 minutes.
5. Add the heavy cream, and grated parmesan to taste. Adjust seasonings as needed; garnish with fresh cracked black pepper.
Reconstructed Corned Beef and Cabbage

Dressing
5 tbsp (75 ml) white wine vinegar
3 tbsp (45 ml) Dijon mustard
10 tbsp (150 ml) vegetable oil
1/4 tsp. (1.25 ml) dried sage

salt and freshly ground black pepper, to taste

Salad
24 fingerling potatoes, quartered and roasted
salt and freshly ground black pepper
dried sage
olive oil
2 cups (473 ml) thinly sliced green cabbage
1 cup (237 ml) sliced green onions
3 medium-size carrots, shredded or julienned

24 slices cooked corned beef
1. Combine vinegar and dijon mustard, season with salt, pepper, and sage. In a thin, steady stream, add oil, whisking well to combine. Set aside and refrigerate.
2. Slice fingerling potatoes into quarters, lengthwise. Place in a bowl and toss with ample olive oil. Season with salt, pepper, and sage. Roast in a 425°F/220°C/Gas Mark 7 oven until lightly browned and cooked through. Cool completely and dress with the vinaigrette.
3. Combine green onion, cabbage, and carrot. Add dressing to moisten well, and toss to coat.
4. Plate up with the cabbage salad first, potatoes atop that, and a slice of corned beef with a small amount of the dressing on it.
Rose Tea Gelée
50.0 grams rose tea, brewed
8 grams sugar
1 gram lemon juice
1 gelatin sheet, silver-grade
1. Steep 1 cup of rose tea (1 cup boiling water, 1 tsp leaves) for 3 minutes. Measure out 50 grams for use. Consume the rest.
2. Bring all ingredients but gelatin to a boil in a nonreactive pot. Soak gelatin in ample cold water.
3. Remove from heat and stir in gelatin. Pour into moulds, allow to set up in fridge, freezer, blast chiller, or cold porch.