Add Style and Warmth with Hooded Capes and Cloaks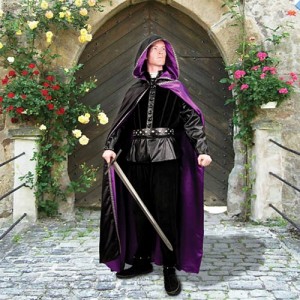 If you're looking for that special something extra to make your Renaissance outfit complete, think about how a hooded cloak would look on top of your period garb. Hooded capes and cloaks add a striking visual effect to any period outfit you wear.
If your mind keeps conjuring up Jedi robes when you imagine hooded capes, know that there are far more styles available to Renaissance cosplayers than there are to the Jedi! And, capes allow you to LARP or enjoy the faire no matter the weather. Let's take a closer look at a few favorite options…
For a stunning look that will immediately draw every eye, there is the Taffeta Lace Cloak for women or men! The deep burgundy color and shimmery texture work as well for a wicked queen as they do for a fair maiden…or a confident, charming man of romance.
For a valiant look that adds drama to a costume, consider a Reversible Cloak. Use the black side when you want to add mystery or slip by unseen, and reverse it to purple for a dash of bright, eye-catching, royal color!
Mystery and intrigue abound when your costume is dark and alluring. Add that intrigue to your costume with the Magic Mist Cloak. The sheer, flowing fabric is perfect for a mage, witch, elf, or anyone who wishes to cast a glorious spell on all who see them.