Steampunk Cocktails!
Ever since the steampunk trend began picking up steam (I know, I'm sorry…), people have been incorporating the fun style into many aspects of daily life. One popular way to have a good time with steampunk is to throw a steampunk-inspired party. Have your guests don their best steampunk costumes, decorate your space with old-fashioned gears, clocks, and other imagery, and mix some steampunk cocktails. Steampunk cocktails?! Yep, some very clever people have put together some delicious steampunk-style cocktails. Here are some easy recipes: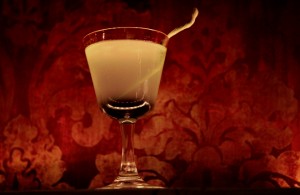 ·       Mr. Jacobson's Emerson
2 oz. Hayman's Old Tom Gin (do not substitute regular London dry gin; it's not sweet enough)
1 oz. sweet vermouth
1/2 oz. fresh lime juice
1/2 oz. maraschino liqueur (it's the raffia-covered bottle at the back of the bar)
Turbinado sugar
Maraschino cherry
Wet the rim of a cocktail (aka "martini") glass and dip the moistened rim in the Turbinado sugar. Set glass aside, preferably in freezer to chill.
Pour the gin, vermouth, lime juice, and maraschino liqueur into a cocktail shaker with ice cubes. Shake well. Strain into rimmed, chilled cocktail glass. Garnish with maraschino cherry and serve. Repeat as needed.
·       The Pauline Charteris Hindenburg Cocktail
3 oz kirschwasser
A tad less than 1/2 oz dry vermouth
A splash of Grenadine
Lemon peel*
(*A peel… just the oily skin… not a "twist" with the bitter white pith.)
Shake with ice, enough to make cold, but not enough to dilute too badly.
·       Tinkerton's Steam Cloud
1oz Brandy
2oz half and half
2 t sugar
1/4 t Vanilla extract
Combine ingredients in shaker and stir until sugar is dissolved. Add Ice and shake vigorously (this makes it thick and foamy like a shake) and strain into glass. Add a light sprinkle of cinnamon on top and enjoy.
For more ideas, check out the book Steamdrunks: 101 Steampunk Cocktails and Mixed Drinks and throw yourself a great steampunk costumes party!