Renaissance Wear in the News
At PearsonsRenaissanceShoppe.com, we try to keep our fans and customers up to date on all things Renaissance wear. Every so often, a truly great news story comes along about the clothes or time period of the Renaissance. Here are some of our favorite recent stories!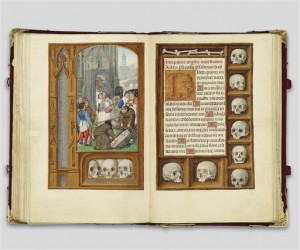 A Renaissance-era prayer book was recently sold for a cool $13.4 million at Christie's London. This prayer book, commissioned around 1505 by a member of the imperial court of the Netherlands, was acquired by the Rothschild family collection in the 19th century. Beautifully illustrated, it is considered one of the highest achievements of Flemish Renaissance painting. http://bit.ly/1ddSYLa
A Renaissance Faire reality show? It seems it is coming soon. According to nerdapproved.com, BBC America is currently looking for Ren Faire enthusiasts to participate in a show described as, "Survivor meets 1890 House, with a touch of Game of Thrones tossed in." Well, hopefully, people won't be experiencing a Red Wedding of their own. http://bit.ly/1a7l5Rk
This Medieval Joker armor costume made quite a splash online recently. Both incredibly cool and unspeakably terrifying, this costume, inspired by the famous Batman villain, will surely give anyone at a Ren Faire nightmares. http://bit.ly/1aJDmSI
As scientists try to figure how to successfully traverse the surface of Mars, one scientist has designed a space suit, inspired by medieval armor. "Mars is totally unforgiving and we must never forget that," says Dr. Gernot Groomer. Understatement of the year? http://cnn.it/1fhbJQo
Have you heard or read any stories about Renaissance wear? Let us know in the comments!