5 Tips for Throwing a Renaissance-Themed Party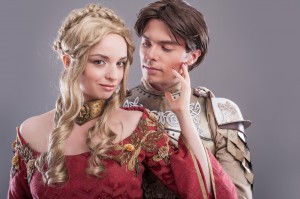 There's nothing like raising your goblet and cheering "Huzzah!" in celebration of the Renaissance, one of history's most popular eras. If you don't happen to have a Renaissance festival happening in your hamlet, throwing your own Renaissance-themed party is the next best thing. The following tips will help make your party one for the history books.
1. Send Out the Scrolls
Set your party's theme by using calligraphy (or a calligraphy font) on parchment paper. Roll the invitations into scrolls and seal with sealing wax. Hand deliver or use small mailing tubes to send.
2. Ready Your Raiment
It's not a Renaissance party without the right clothing. You can get great deals on authentic Renaissance faire clothing online. Encourage your guests to dress the part as well. Even if you don't have full regalia, one or two clothing pieces can be enough to create an appropriate look.
3. Set the Scene
You don't have to spend a king's ransom. A few select touches are enough to create a Renaissance feel. For instance, put up wooden or parchment signs with calligraphy that say, "Pub," or "Dining Hall," and "Privy," to direct guests to the appropriate rooms and use only candlelight. Hang tapestries or large swatches of colorful brocade fabrics.
4. Make Merry to Music
If you're going to party like it's 1599 you're going to need music to match. Renaissance music covers a couple of hundred years so you have plenty of latitude if you're striving for authenticity. However, instrumental Celtic music will also work fine or simply put on the "Game of Thrones" soundtrack.
5. Don't Forget the Feast
Keep in mind that food was simple and hearty — and silverware wasn't really a thing. Set out plenty of finger foods such as turkey legs, cheese slices, and bread, and keep the ale, wine, and cider flowing.
For a fun touch, consider party favors such as miniature wooden treasure chests filled with chocolate coins or bejeweled plastic goblets guests can drink from and take home.