Women's Renaissance Costume Essentials: 3 Favorites Under $50!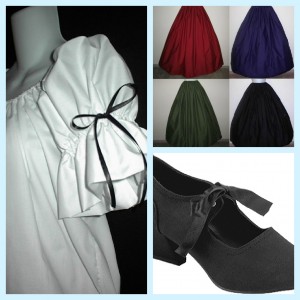 If you're like most Renaissance-loving ladies and gents, you could easily spend thousands of dollars if given just a few minutes on a Renaissance costume shopping spree! However, most of us don't have the unlimited income that would be necessary to fulfill our every Renaissance costume fantasy. The simple fact is, high quality Renaissance costumes can be on the costly side. The upside, of course, is that they look better, feel better, last longer, and have a fine attention to detail. That said, even those of us who work here at Pearson's Renaissance Shoppe must keep a close eye on our purse strings, investing in costumes we absolutely can't live without and will wear time and again. Trust me, it's not easy. There's temptation at every turn, with every order that arrives!
While I have a few Renaissance dresses and Medieval dresses that I wear frequently to events and gatherings, and plan to for many years, I also like to stock up on Renaissance wear essentials that I can mix and match to keep things creative, fun and fresh. Letting your imagination go wild is a big part of making the most of Faires and Festivals, and there are many pieces that you can incorporate into countless looks by switching up your accessories or the other clothing you pair them with. Here's a few of my favorites, all under $50, that make it easy to slowly build a collection you'll be proud of without spending a lot at once…
Renaissance Chemise: This terrific white top pairs perfectly with so many pieces, crafted in a comfortably baggy style that is breathable, flattering and feminine. The elastic neckline lets you decide if you'll wear it on or off the shoulders, while the black bows on the arms are a charming touch. Available in sizes XS-2X, this top looks great on everyone we've seen wearing it!
Colonial Shoe: If I said I hadn't worn these to work once or twice I'd be lying! These versatile shoes really take on the look of whatever you wear them with, be ye a pilgrim or a wench. Finding the ideal footwear for every costume isn't always an option, so I like to have a few pairs of shoes that work with almost anything. I've turned to these more than once, and they've saved the day and the costume every time.
Drawstring Renaissance Skirt: These are absolutely amazing for those scorching summer events that always seem to fall on the most hot and humid days of the year. Currently available in 14 colors of seriously soft, lightweight cotton, these one-size-fits-all workhorses are ready for whatever the day brings! They also layer beautifully for added loft or warmth.