Medieval Winter Cloaks for LARPing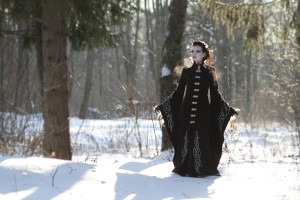 As October sets in, so do the lower temperatures. For the Live Action Role Players out there, this means cold days and even colder nights. Since most LARPs operate through the night, role players need to be able to stay warm to continue enjoying the game. PearsonsRenaissanceShoppe.com has a number of different Medieval Winter Cloaks that you can match to any costume or character.
For example:
Perhaps your character is of noble descent and you want that reflected in your costume. A simple and mundane cloak simply will not do. Something more long the lines of this Medieval Duke's Cloak will help delineate your status.
Maybe your character does not care for the troubles of the Highborn Lords. Maybe you've learned that the key to survival is sneaking and stealing so that you can enjoy life on your own terms. If that be the case, then this Rogue's Black Hooded Cloak may pique your interest.
Does you character take to the woods? Do you like tracking down enemies, hunting wild game for food, and scouting out for danger? If so, then a Green Wool Cloak can help you blend in easily with the camouflage that nature has to offer.
Regardless of your character's position or intent, one thing is for sure: These cloaks will keep you warm as the temperatures continue to drop.