Five Family Friendly Faires
Every summer, when your kids get out of school, one of the first questions they ask is, "Where are we going for vacation?" Of course, some of the heavy hitters, like Disney World, might be a little out of your price range. Also, if you are a Renaissance enthusiast, big theme parks aren't very Ren Faire friendly. To help you out, we've put together a list of family friendly Renaissance faires we know you and your family will love! Make sure you browse our collection of kids medieval costumes before you book your trip!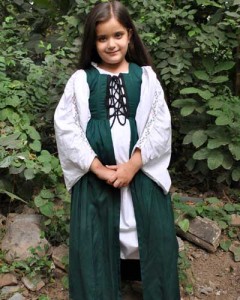 Georgia Renaissance Festival – This incredible festival, located in Fairburn, Georgia, is home to an amazing amount of kids-oriented activities, like the Cirque du Todd juggling and balancing show, the Barely Balanced acrobats, and a children's play area of rides and games. Hurry – this one ends June 8!
Bristol Renaissance Faire – Centered in Kenosha, Wisconsin, this faire imagines a summer day in 1574 when Queen Elizabeth visits the town of Bristol. This huge festival (16 stages of entertainment!) features magic shows, storytelling, toy ship sailings, and Bristol's Kids Kingdom. This faire runs from July 5 to September 1.
New York Renaissance Faire – This stunningly accurate 16th century Renaissance Faire takes place in the Hudson Valley. Kids can be involved in the Questing Kids day-long interactive adventure and the Enchanted Forest, which features a fairy coven. Runs from August 2 to September 21.
Minnesota Renaissance Festival – One of the oldest (44 years!) and one of the best, this Shakopee, Minnesota Renaissance Faire has something for everyone – especially kids! Kids can make their own fairy wands and pirate hats, learn how to juggle, or even visit the reptile petting zoo. This faire lasts from August 16 to September 28.
Maryland Renaissance Festival – This fantastic festival, located in Annapolis, Maryland, has been recreating a Renaissance Village called Revel Grove for over 30 years. Kids can enter free during their Children's Weekend (August 23-24) and can participate in a variety of shows. The full festival runs from August 23 to October 19.