Children's Renaissance Costumes Add to the Fun of the Faire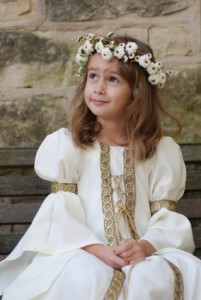 There is a wonderful element of charm in visiting a Renaissance Faire, and the fascination that you have with the theme of such an environment will be enhanced when you take it in with your kids. Children see things so differently, and your passion for medieval themes may actually pale in comparison to the excitement you will see in your children as they explore the event. Taking in jousting matches, seeing ladies dressed in fancy clothing and finding fun crafts that represent the theme will be all the more fun if they attend in childrens Renaissance costumes.
Your youngsters may love the opportunity to imagine themselves as knights or swordsmen. They may want to act out favorite tales as they wear their medieval garb. Your daughters may thrill to dress as princesses, and you can attend as a queen or as a lady in waiting, whichever best suits your sense of humor and fun. If your youngsters love childhood stories of buccaneers, then medieval pirate gear is perfect for allowing them to fan their imaginations into a flame of excitement throughout the faire. Childrens Renaissance costumes are great for fueling creative thought and providing impromptu acting opportunities throughout the year.