Bring Pirate Adventure to Your Local Renaissance Faire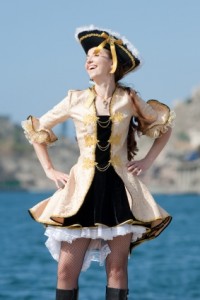 The Renaissance Faire is nearing, and your thoughts are turning to choice of garb. Why not break with tradition and decorum, opting to attend as a pirate queen? After all, a little excitement is in order when it comes to being a part of one of the big events of the season. As a pirate queen, you have license to be flirty and fun. A pirate fancy dress costume will allow you to get into character for the event, giving you a unique platform for promoting pirate speech.
It's fun to have some cohorts in your venture, and your family and friends may easily cooperate as scaliwags. Finding your pirate fancy dress costume while helping them to find the right gear to be your band of buccaneers will be an adventure in its own right. If you are involved in the planning of your local Renaissance Faire, though, it will be even more exciting to plan some surprises for those in attendance. Whether you stage a pirate raid or set up a walking the plank booth, you will have an amazing time as you bring the sense of the Seven Seas to your community and to your friends.