Renaissance Costumes that Help You Keep in Character and Keep Warm: Part 2!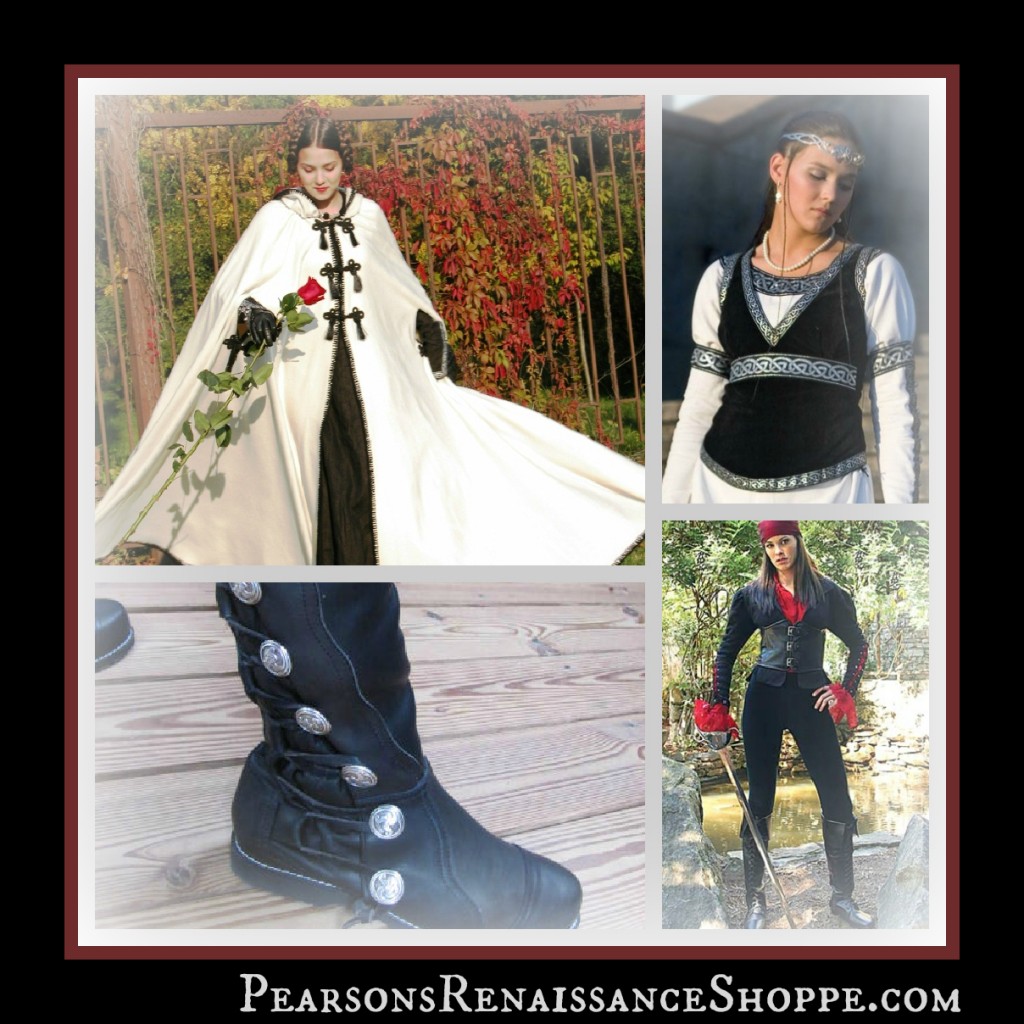 In our last blog post we discussed the necessity to keep winter weather in mind when choosing the costumes you'll wear during events and adventures both inside and out. I asked you, dear readers, to share in your tips for having fun and keeping warm even when it's frosty, and mentioned I'd be sharing a few of my favorite winter Renaissance costume essentials. And… here they are! Please do share yours, as well! 🙂
Stretch Velour Pants: For days, nights, or events when a skirt or dress simply won't work, I turn to my trusty black velour pants. Well-suited to a pirate costume, these can also be worn beneath almost any dress or skirt for added warmth.
Chess Queen Bodice: Remember those layers I mentioned in Part 1 of this post series? This lovely piece is among my most popular choices! Fashioned from faux suede with a soft satin lining, it pairs well with many tops and dresses. It also looks pretty fierce with the velour pants above, and if the Renaissance was anything, it was fierce!
Milorada Wook Cloak: Crafted from supremely soft and warm wool, I feel powerful, pretty and poised in this cloak. It's as though it is imbued with confidence and charisma! Plus, it helps me stay toasty. And, it's available in many colors to complement your costume of choice, or where you'll be wearing it. I personally love the white cloak, but it can be a bit impractical if your character is likely to get dirty. For those lady LARPers I recommend the green, red, blue, black or grey. (But seriously, the white is gorgeous!)
Queen Isabella Renaissance Boots: The versatility of these boots knows no bounds. And – you get to customize them! They are definitely an investment piece, with a heavy leather upper and screw-on buttons that you can switch up as you wish, but you'll understand their price the first time you see them in person. They are warm, comfortable, and built to last, with a Vibram welted sole and heel. Their quality is unlike any we've seen, and as they can be re-soled, we expect you'll enjoy them for many years. I personally love the brown boot with blue trim, but have yet to see a customer order a color combo that didn't turn out awesome!