Medieval Jewelry, the Perfect Accessory!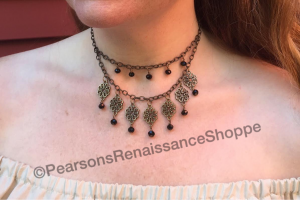 Are you an authentic LARPer or SCA actor? Then you know it's important to have a complete costume from your chemise to your corset, right down to your leather boots. Portraying a person of wealth and status? Everyone knows in the medieval times the best way to portray a higher caste without a castle in tow is to flaunt your accessories! Here at Pearson's Renaissance Shoppe we have everything to meet your medieval jewelry needs:
Medieval Crowns & Princess Tiaras
Pearson's has a wide variety of medieval crowns from King Richards Crown to the Crown of Elrond, the White Queen's Crown, to the embellished Residing Power Crown. Whether you are a Royal King of England, Dazzling Queen of the realm, or the Elven King of a faraway land Pearson's Renaissance Shoppe has the right medieval crown for you! Pearson's also carries many tiaras and circlets from simple and elegant to finely embellished to match any maidens dreams!
Renaissance Necklaces
Considering the necklines of the times the best renaissance jewelry you can get to display your status is a necklace! Pearson's Renaissance Shoppe carries necklaces for everyone. The swashbuckling pirate wouldn't be complete without our beautiful Pirate Pendant that hosts a hidden blade. Our medieval pear shaped necklace with matching earrings would be perfect for the glamorous Queen. The modest maiden would have a touch of elegance with our Autumn in Red Choker. Let's not forget the elegant elven damsel who wouldn't be complete without an Elven Leaf necklace and earring set.
Medieval Earrings and Bracelets
Pearson's Renaissance Shoppe has a wide selection of medieval earrings and bracelets for every occasion and style. We even carry elegant armbands, ear hooks, and ear cuffs. If you're looking for the perfect renaissance jewelry accessory you need look no further than Pearson's!
LOTR Inspired Circlets & Chainmaile Headpieces
Do you love Lord of the Rings? Pearson's Renaissance Shoppe has the perfect medieval jewelryfor you! Our exquisite circlets and headpieces are handcrafted with care! We only use Lobster claw clasps that don't tangle or pull your hair. Here at Pearson's we never use acrylic or plastic, only REAL crystals and gemstones! We never substitute a cheap inferior product with all the beautiful cut crystals, gemstones and other beads available. Only the best we are able to obtain will do for these stunning one of a kind creations! No matter what event you attend these authentic looking circlets and headpieces will be the shimmering finish to your garb!
Men's Medieval Jewelry
Last but not least Pearson's Renaissance Shoppe boasts a wide selection of adornment for a man of any stature be he knight, baron, pirate or king. Choose from Crowns of gold, silver, or brass. Are you a Knight of noble standing? Complete your garb with our knightly chain! Swashbuckling pirate or weaver of magic? Try our finely crafted medieval jewelry to adorn your neck!
At Pearson's Renaissance Shoppe you will find the highest quality Renaissance Jewelry. No matter your needs here at Pearson's we have the perfect renaissance jewelry and accessories to complete any look! Shop Pearson's Renaissance Shoppe today!