Preparing Your Winter Renaissance Costumes for Summer Storage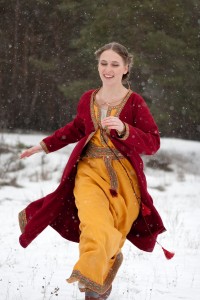 With temperatures in the 70s and 80s on the forecast for this week, I can no longer pretend summer isn't on its way. Don't get me wrong – there's a lot I love about summer. The sun shines brighter and later, friends make more time for get-togethers, and I can sit on the porch every night without wearing a coat. These are all good things! But as someone who is naturally drawn to heavy fabrics like wool and velvet, it does break my heart a bit to know I won't be wearing them for a few months. But – they do get one last hurrah! Before packing them away I inspect each carefully to ensure they're ready for storage. Here's the steps I take, but I'd love to hear from all of you as well. I'm sure mine can be improved or expanded on! 🙂
Step One: Gather It Together: If you're a more organized person than I am, this step should be short and sweet. But for the rest of you out there who, like me, have a Renaissance dress in one closet, pair of Medieval boots in another, and chemise just waiting patiently to be laundered, this can take a little more time!
Step Two: Look Over Each Piece: Once you have all your Renaissance clothing in one location, take some time to really inspect each piece for tears, missing buttons, dirt and the like. Make separate piles for pieces that are ready for storage, those that need mending, and those that need laundering.
For the pieces that need mending, you can always wait until fall to tackle that, but I find it's much more satisfying to know that everything I'm putting away is ready-for-wear as soon as the cool weather comes 'round again.
As for the pieces that need to be cleaned, be sure to follow the care instructions for each. And definitely fight the urge to 'deal with them later'! The sooner you clean them, the better the results are likely to be. It's also important to consider that dirt and food particles can attract bugs and other pests, so you'll want them free of both before you stow them away.
Step Three: Decide On Storage Containers: While the best way to store your Renaissance clothing and accessories will ultimately depend on how many pieces you have, and how much room you have for storage, I always try to give everything room to breathe. I have friends that use all-plastic hanging bags and love them, but I'm partial to fabric bags or plastic bags that are at least partially fabric (these can be more affordable, and often feature the fabric panel in the gusset). I think this helps to alleviate any worries over heat and humidity compromising the fabric. I'm also sure to store them somewhere away from direct sunlight as this can break down fabric and cause it to fade.
Step Four – Bring Out the Summer Wear: This is the fun part! After all the gathering, mending, cleaning and storing, you finally have room to break out your favorite summer Renaissance wear and embrace a new season with old-fashioned style.