Top Medieval Myths…and the Truth! Part 2
Whenever movies or TV shows are created that are based on specific time periods, and certain artistic licenses are taken, myths can be created and perpetuated for many years. This may be one reason why the medieval era is rife with popularly believed myths. At PearsonsRenaissanceShoppe.com, we love the medieval period, as evidenced by our detailed medieval costumes, so whenever we hear one of these myths, we just have to speak up and clarify. As we conclude our short series on medieval myths, we hope that we have inspired you to learn more about this fascinating period in our history!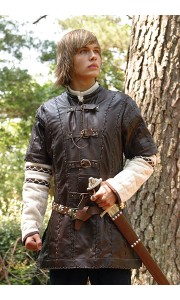 The common image of knights is one of nobility, chivalry, and honor. While they were certainly these three things, knights were also young soldiers who were warriors at heart. At the beginning of the 11th century, as lords fought over land, knights would often show up to the small villages and massacre everyone. To try to stop the violence, the Pope at the time sent many knights to the Middle East as part of the First Crusade. This only created more violence.
Life in the medieval period was hard, unpleasant, and ultimately too short, right? That's what most people think when they think of the medieval era. While the average life expectancy was 35 years, it's important to remember that this was before vaccinations against childhood diseases were invented. Even though the image of a peasant doing back-breaking manual labor for an uncaring lord is common, it isn't completely accurate. Peasants generally worked about 8 hours a day with generous breaks and naps (naps!). They also had Sundays off, long Christmas and Easter holidays, and days off for saint feast days. That doesn't sound too bad, huh?